Selling an Engagement Ring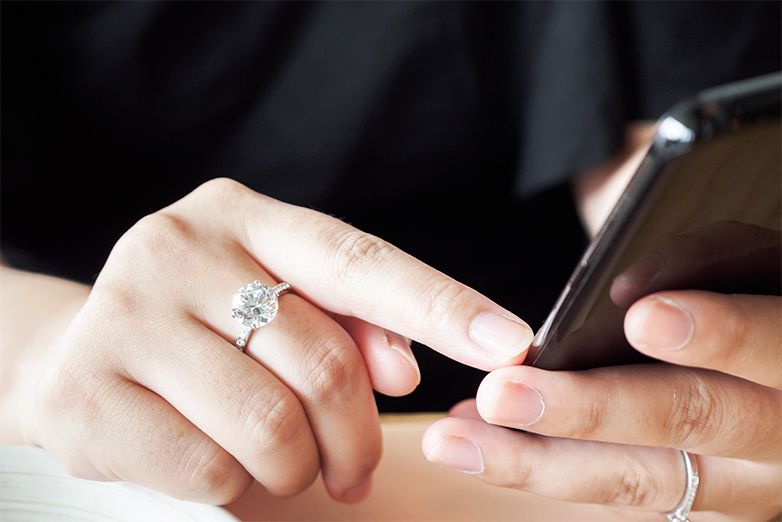 If you are contemplating selling your diamond engagement ring, you've most likely asked yourself the following questions:
---
If you are contemplating selling your diamond engagement ring, you've most likely asked yourself the following questions:
Where can I sell my engagement ring?

How much is my engagement ring worth?

How does the process work?
You can sell your engagement ring worry free with iValue Lab. Get started by completing our simple online evaluation form. We will contact you within 24 hours with an fair appraisal, based on current market prices!

GET PRICE FOR YOUR ITEM NOW
Where Can I Sell My Engagement Ring?
The options are endless, as there are many sources that will be more than thrilled to purchase your engagement ring. The most common are:
1. Pawn Shops
A pawn shop is a local option that allows you to sell your engagement ring and diamonds, on the spot for immediate cash. While these shops are tempting and provide immediate gratification, they're also a very risky option. Pawn shops usually do not employ gemologists that possess the skill of evaluating diamonds on a professional level .
This means that when you sell your diamonds to one of these shops, you'll likely get paid less of your diamonds worth, which is a quite a shame.
2. Private Buyers
Anyone can connect to private buyers with the help of the handy dandy internet.
Platforms such as eBay and Craigslist allow you to create an advertisement for you diamonds and set your own price. Nevertheless, while lacking industry knowledge of the second-hand diamond market, you can't accurately price your diamonds, meaning you'll either lose money or not sell your diamond at all.
3. Auction Houses
Auction houses are a traditional selling option for high value items. These organizations hire a team of diamond experts that accurately evaluate and price your engagement ring. The drawback of this is that you might have to wait a long time for an upcoming auction that has the right buyer in attendance.
Also, if you do manage to sell your engagement ring, note that the auction house will take a nice percentage of your earnings. In summary, auction houses are not the best option if you're looking for a quick sell.
4. EXPERT Diamond Buyers
If you're looking for a quick and safe way to sell your engagement ring, your best bet is to work with expert online diamond buyers. Finding buyers isn't hard, but connecting to an honest organization with objective field knowledge is rare.
With over 20 years of experience and a staff of fully certified gemologists, iValue Lab is a safe online jewelry buyer that provides fast and honest appraisals for your engagement ring, based on current market prices.
Best of all, there are no hidden fees or commissions that will deduct from your offer, so the final price is the exactly what you will receive. iValue Lab's service guarantees payment within 24 hours of receiving your item and provides friendly, professional customer service, available via chat, phone and email. So what are you waiting for? Get an Offer
How Much is My Engagement Ring Worth?
Now that you know where to sell your engagement ring, you'll likely be wondering how much it is worth and where you can get the best deal. However, before you start dealing with a diamond buyer, you should first understand your diamond's quality. Diamonds come in a wide range of shapes, sizes and colors with unique external internal and qualities. These characteristics are what will determine the all-together value of your engagement ring - for better or for worse.
The Basics of Diamond Grading are Known as the 4C's:
Carat Weight: Carats are the unit of measurement for diamonds. iValue Lab purchases diamonds set in jewelry and loose diamonds that weigh at least 0.5. Ct.
Color Grade: This refers to how much color is present in the diamond. For white diamonds, the less color is has, the more it is worth. Contrarily, fancy colored diamonds are worth more when the are richer in color.
Clarity Grade: Color grade refers to the amount of external and internal flaws on the diamond. While often a diamond may look flawless to the eye, it might actually have blemishes and inclusions that can only be seen under a special lense. The less flaws the diamond has, the more it is worth
Cut Grade: Cut grade is determined by the cut quality and proportions of the diamond. This grade only applies to round diamonds.
Find out how much your engagement ring is worth Get an Offer
Where Can I Find This Information?
Most engagement rings come with an official certification from a reputable diamond laboratory. This certification records the diamond's traits and properties (clarity, cut, color, weight, etc.)

If your engagement ring has not been certified, its details may be visible on a jewelers or insurance appraisal.

If you have no certification or appraisals, iValue Lab has got your back! Send in your engagement ring and we'll have it inspected by the GIA in order to establish accurate data for the diamond. Once we have this information , we'll be able to conduct an accurate appraisal.
Get started by completing our simple evaluation Get an Offer
How Does the Process Work?
Thank to the blessing of modern technology, selling your engagement ring online is much easier than you think!
Start by completing our simple online evaluation form -

Start Evaluation

Once you've filled out the form, iValue Lab will contact you within 24 hours with an initial appraisal. If the offer meets your liking, we'll send you a free shipping label and box, straight to your home address.

Pack the box with your engagement ring and take it to your local post office. Once you send it off, your shipment is fully secured and insured, meaning you don't have to worry about it getting lost.

Within 24 hours of receiving the item, iValue Lab will contact you with the final appraisal. Assuming the diamond's characteristics are identical to your initial description, the final offer will stay the same as the first.

Accept your offer and receive immediate payment in as little as 24 hours or have your ring mailed back to you the next day through our free and insured shipping service.
Why Should I Sell My Diamond Engagement Ring Now?
Market prices for diamonds are in a long, slow five year decline. This means, the longer you wait to sell your engagement ring and diamonds, the less they will be worth! Here is the Idex diamond Index over the past five years:
(http://www.idexonline.com/diamond_prices_index)
As you can see, there is a significant decline and it is expected only to worsen. Don't wait any longer! Now is the time to sell your engagement ring and diamonds! Get started! (Link)
Is it Okay to Sell My Engagement Ring?
There can be many reasons that someone may decide to sell their engagement ring.
Some are looking to sell their engagement ring as a result of a broken relationship, some are in need for funds and some simply don't like the ring.
If you're wondering if it is okay to sell your engagement ring, we are here to assure you that the answer is yes, it's okay! If selling the ring is something you've decided you want to do and you are legally allowed to do so, then we encourage you to do it!
Survey that discusses what women say about selling engagement rings
4 Out Of 10 Millennials Would Sell Their Engagement Rings

It used to be that etiquette experts recommended spending twice your monthly income on an engagement ring. But that's a big chunk of change, and today's couples aren't buying it—literally. Thirty-seven percent of Millennials say they'd sell an engagement ring to fund a major life purchase, such as a home, travel or higher education, according to a survey by WP Diamonds. That's a bump up from older generations, in which only 23% would choose to hock the ring.
Millennials are also choosing to go with different kinds of engagement rings—simple gold bands and colored gemstones.
"On the surface it seems like Millennials are competitive, materialistic and flashy, especially as a result of their tight connection to social media," says Andrew Brown, president of WP Diamonds. "However, we've seen through this survey, as well as a wide variety of other studies, that this generation is actually very smart about their purchases and dedicated to properly planning for the future."
In fact, 55% of Millennials sold diamonds and other sentimental jewelry in 2016 to help prepare for the future, the survey found. And 69% of them would consider exploring alternative engagement rings in place of traditional white diamonds.
"There will always be a market for extravagant engagement and wedding rings, as this is a custom that has existed for decades," Brown says. "However, there has definitely been a clear shift toward alternative options that has affected the diamond industry and its growth. Even those who are looking for substantial rings are looking to the secondhand market to purchase at a more reasonable cost."
Millennials chose the following as the most important use of their money:
House (62.7%)
Higher education (58.8%)
Travel (52.9%)
Car (31.5%)
Engagement Ring (25.5%)
"Millennials are informed, they know what things are worth and they value quality of life above all," Brown says. "So trading in diamonds for experiences or adjusting their engagement ring choices for pieces that better suit their lifestyle and future makes more sense to them than wearing or holding on to something because they feel they're supposed to."