Why Is Certified Diamonds Resale Value So Low?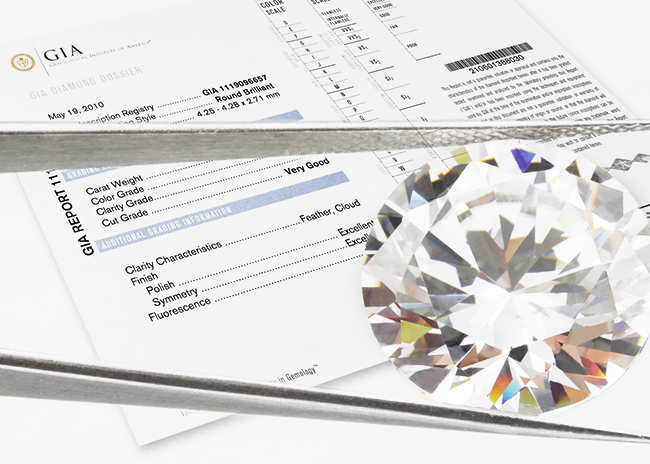 When you are looking to sell loose diamonds online, it is better to have paperwork that describes your diamond better. This paperwork can be an appraisal by a jeweler or a certificate (GIA, IGI, EGL). Trusted diamond buyers usually prefer certificates over appraisals as certificates have detailed and accurate information regarding the stone. Appraisals usually display only approximate information. An estimated offer that is given based on the information on an appraisal can turn out to be an inaccurate amount when the diamond is inspected at the lab.
As the information on appraisals might not match the Gemologist's report. Some jewelers put diamond specifications higher than the actual on appraisals and this can be misleading. This is the reason why it can be easier for you to sell certified diamonds than uncertified, especially if your diamond is GIA certified as it is the most trusted and respected gemological laboratory in the diamond industry.
The grading report by GIA is the most accurate and iValueLab sometimes even provides you with a single offer based on the details of the certificate. You would just have to provide the GIA number or a copy of the certificate and we will get you an offer via email or phone call. And we guarantee that we will pay you the exact amount given that the item that you will send in for inspection matches the description on the GIA certificate provided initially.
Some people have a misconception that if the diamonds are certified, they automatically will be priced higher as they might have paid an extra sum of money in order to purchase a certified stone. That definitely is not true, as diamond buyers usually recertify every stone they purchase, especially if the certification is old. However the value of your diamonds depends on the characteristics of your diamond, so if your stone is of a lower color and quality, even though it is GIA certified, its market value will be quite low and we will not be able to provide you with a higher offer. Similarly, if your stone is of top quality and a desirable stone in the market, then even if it is not certified you will definitely get a better offer.
There is also a certain misunderstanding amongst people regarding the appraisal value. The value that jewelers mention on appraisal reports is solely for insurance purposes. The most certainly is not a resale value of GIA certified diamonds, or even uncertified ones. Keep in mind that jewelers tend to put a higher insurance value on paperwork for the comfort of their clients. You might mistake it for the actual value and when you decide about selling your diamonds, you could lose numerous good offers just because you were not provided the right information.
So do not be disheartened if you do not have a certificate we have got you covered! Paperwork does cost money and can be pricey to get the stones certified or appraised especially when you are looking to sell it to make some money. Our lab has highly qualified, GIA certified gemologists on our team, and when you send in your diamond for evaluation, the diamond description that you will receive (carat weight, color, clarity etc.) and the final offer, both will be according to GIA criteria, as iValueLab works only according to GIA standards. And we guarantee the most fair offer in the market.